A recent study published in Journal of Neuroscience reveals a new pro- inflammatory factor pancreatitis-associated protein-I (PAP-I) in maintaining neuropathic pain. This work was performed by researchers in Dr. ZHANG Xu's Lab at the Center for Excellence in Brain Science and Intelligence Technology, Institute of Neuroscience and State Key Laboratory of Neuroscience, and in Dr. BAO Lan's Lab at State Key Laboratory of Cell Biology, Center for Excellence in Molecular Cell Biology / Institute of Biochemistry and Cell Biology, Chinese Academy of Sciences.
Neuropathic pain is maladaptive pain condition and the maintaining mechanism is largely unclear. Pancreatitis-associated proteins (PAPs), the secretory proteins, belong to the calcium-dependent lectin gene superfamily. PAPs have been shown to play roles in the digestive system, as well as in neural regeneration after nerve injury. However, whether PAPs participate in pain development was still unclear.
To address this question, researchers generated the rat spared nerve injure (SNI) model and found that peripheral nerve injury triggers the de novo expression of PAP-I only in dorsal root ganglia (DRG) neurons, the sizes of which shift from small to large and back to small ones, indicating the potential role of PAP-I in neuropathic pain. The increased PAP-I could be transported bi-directionally toward peripheral and central terminals. To distinguish the function of PAP-I in two terminals, the researchers performed intrathecal injection and intraplantar injection of PAP-I respectively to rats and determined the behavioral effect. The results showed that intrathecal but not intraplantar application of PAP-I induced thermal and mechanical hyperalgesia, indicating that PAP-I is pro-nociceptive in the spinal cord. In contrast, behavioral test in PAP-I knockout rats with SNI surgery developed tactile allodynia within the first week, but tactile allodynia was alleviated significantly at Day 43, which means PAP-I is not necessary in the initiation but play a major role in long-term maintenance of tactile allodynia. Furthermore, the researchers found the activation of microglia in spinal dorsal horn after PAP-I injection. Additional experiments confirmed PAP-I-CCR2-p38 MAPK pathway in microglia activation. Finally, an inhibition of microglia activation or CCR2 reversed PAP-I-induced thermal and mechanical hyperalgesia. Taken together, PAP-I mediates the neuron-microglial crosstalk after peripheral nerve injury and contributes to the maintenance of neuropathic pain.
This work entitled ''Nerve Injury-Induced Neuronal PAP-I Maintains Neuropathic Pain by Activating Spinal Microglia'' was published in Journal of Neuroscience on January 8, 2020. It was completed by Dr. LI Jiayin and SHI Haixiang with the help of Dr. LIU Hui, Dr. DONG Fei, and LU Yingjin under the supervision of Profs. ZHANG Xu and BAO Lan. Prof. CHEN Luonan and Dr. LIU Zhiping, at Center for Excellence in Molecular Cell Biology / Institute of Biochemistry and Cell Biology, Chinese Academy of Sciences, also gave generous help. It was funded by the National Natural Science Foundation of China, the strategic priority research program (B) of Chinese Academy of Sciences, and the key research program of frontier sciences, Chinese Academy of Sciences, and the Science and Technology Commission of Shanghai Municipality, China.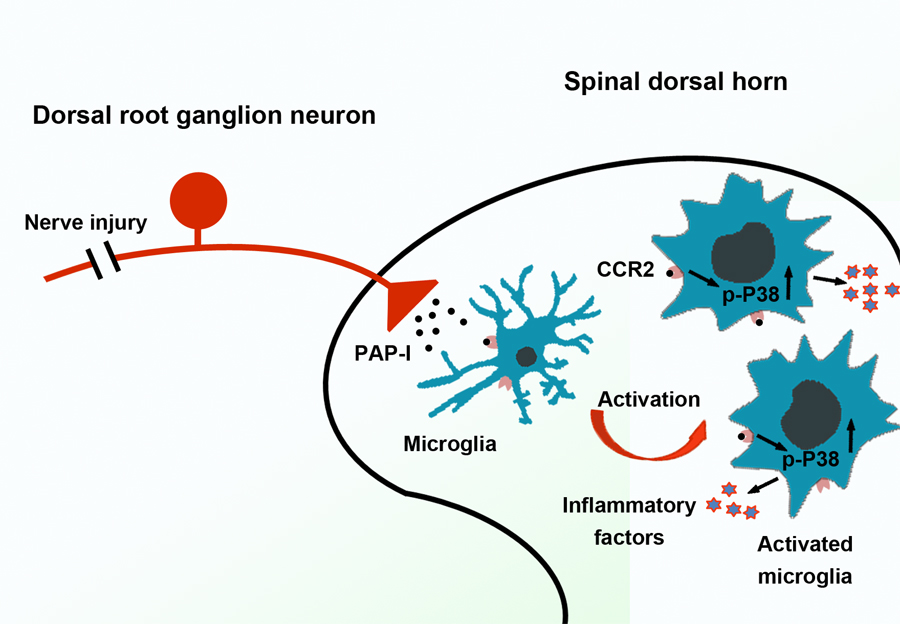 Figure 1 PAP-I is induced in DRG neurons after peripheral nerve injury and transported to spinal dorsal horn, and then activates microglia via CCR2-p38 MAPK pathway, involving in the maintenance of neuropathic pain. (Image by CEBSIT)